15 Sep
Four months ago, I discovered a miracle.
For those of you with long and thick eyelashes, you will never understand 😛 Folks like me with thin, short and sparse eyelashes (with single eyelids somemore) are weary of times when we see ourselves in photographs or reflections. I am the kind where no matter how much curling and mascara I use, I will never ever make my eyelash appear longer (Angel Eyes fibre mascara kit helped alot, but still nowhere near eyelash extensions. More of that in a later post).
We had always looked so sleepy, as though we are a relative of Garfield's.
A visit to Angel Xing Beauty (located in City Plaza #02-36, which is at 810 Geylang Road, near Lion City Hotel. Nearest MRT is Paya Lebar MRT) solved this problem for me! Look at the difference! And, no more curling of lashes and wallops of mascara!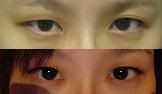 Top pic: (Left) My eye (Right) A double eyelid effect created with a fake eyelash, which I succeeded in pasting but fell off after a couple of hours
Bottom pic: After eyelash extension
Here are some close-ups:
Initially, my first pair (lasts from about 2-4 weeks) was thicker but I have switched to a more natural look.
Each pair costs S$50 and basically it should last you one month. But for me, the lashes last me about three weeks. Based on my own experiences, the lashes would be the prettiest during the first week. After which, 'they will 'break' (the lashes will not line the edge of your eyelids in a straight line) in about 2 areas along the lash line. The glue will also start to turn colour. By the third week, the glue should have changed from a clear appearance to a whitish colour because of constant contact with water (washing of face) and make-up (you need to use cotton buds to clean the area near your lash lines). By this time, you can probably see the glue obviously (some lashes may even come off because the glue is not sticky) but when viewed 30cm away, the glue is not obvious. By this time, I would try to tug off the lashes by myself, but trust me, leave it to the ladies at Angel Xin. On a recent visit there, the lady boss (Xin Xin) showed me just how much damage I had done by tugging off the fake lashes. For those one or two stray lashes, it's alright to try to tug them out, but try not to. Leave it to the experts. They use a dissolvent to dissolve the glue and remove the lashes painlessly.
For more enquiries, you may wish to call Angel Xin at 6747 0205 or 9877 3886 and look for the lady boss Xin Xin. Or you can look for the girl who helped me with my extensions from the beginning till now (except the recent visit, where she was on morning shift), Min Min. I have already signed up for their package of 6 sessions for the price of 5, with a free touch-up (usual price: $10 onwards, depending on condition.) During all my visits there, there were always people doing their eyelashes and hair. I am so tempted to do the hair extensions. I got a quote from them that I would need to pay about S$150 for hair extensions. Anybody want to sponsor me?